CHARGEABLE LANGUAGE COURSES AND SEMINARS 
FOR CIVIL SERVANTS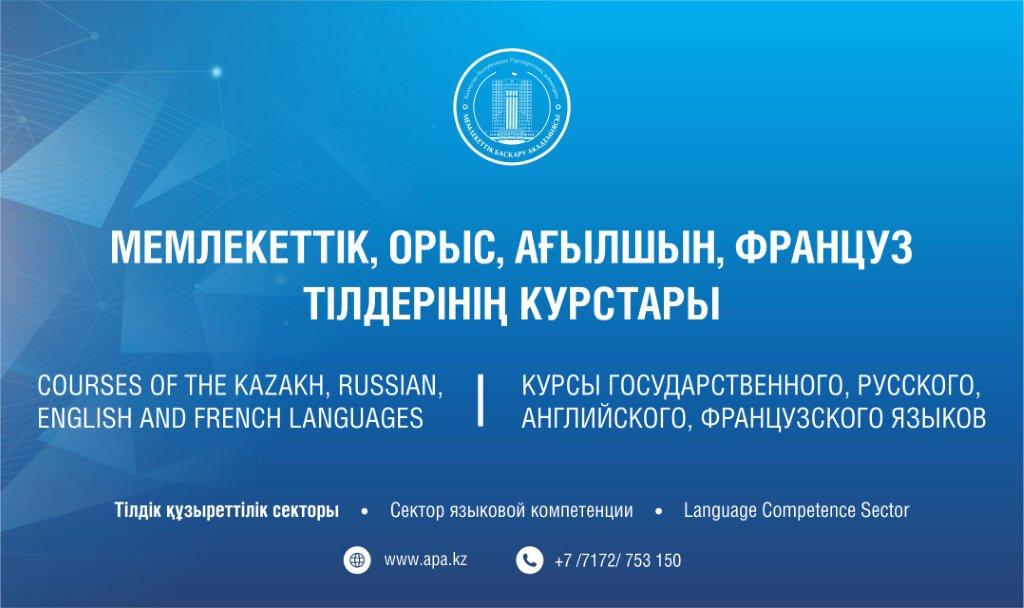 Сhargeable Language courses and seminars for civil servants
Academy of Public Administration under the President of the Republic of Kazakhstan can help civil servants to increase proficiency of state and foreign languages in a fast and efficient way.
The Sector of Linguistic Competence of the Academy offers a wide choice of modes and types of language learning. You may choose evening, customized and individual courses, seminars and couching.
Advantages of language courses and seminars of the Academy's Sector of Linguistic Competence:
We can teach you understanding the logic of language, build a language frame, and accumulate knowledge and skills step by step. You will be able to form the language basis, putting fragmentary knowledge together;
Full language immersion;
Teaching is run by the custom-tailored programs for civil servants;
Classes are held by the Academy's skilled trainers with training methods different from the standard ones;
Our courses and seminars enable not only have a better grip of languages but broaden civil servants horizons;
During training learners do networking and improve their communicative capabilities;
The quality of training meets up-to-date requirements of language learning in the sphere of public service;
Learners will master the principles and techniques of essay, analytical notes, expert reports writing, practical skills of rhetoric, translation technics, records management in the state and foreign languages.
Classes are held in the form of crash courses engaging every learner in case methods. Certificates of the Academy are issued by the results of trainings and seminars;
Duration of each level of language course is 120 hours. Seminars' duration varies from 72, 48, and 36 to 24 hours.
The most popular language courses and seminars of linguistic competence
Official Kazakh language (72,48,36,24 h.)
Official correspondence and translation (72,48,36,24 h.)
Communicative professional strategies and public speech (72,48,36,24 h.)
Reading and writing skills of the official Kazakh language in Latin script (36, 24h.)
Official translation in practice
General English (120h.)
Academic English (120h.)
Business English (120h.)
General French (120h.)
Business French (120h.)
Français sur objectifs spécifiques (FOS) (120h.)
Français généraliste (72,48,36,24 h.)
Feel free to contact the Academy of Public Administration at your convenience. We are ready to select an appropriate program of any language course depending on your aims, budget and time.
Our contacts: Academy of Public Administration under the President of the Republic of Kazakhstan, 33A Abai avenue
Institute of Professional Development,  The Sector of Linguistic Competence, tel: +7 (7172) 75-31-50
email: nazigul.tulenbergenova@apa.kz, nurgul.nuralina@apa.kz
Online request is held here: